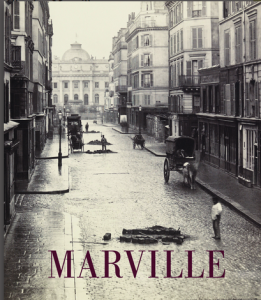 Het boek Charles Marville, photographer of Paris, uitgegeven bij the University of Chicago Press, is vanaf nu verkrijgbaar. Het werd samengesteld en ingeleid door conservator Sarah Kennel van de National Gallery in Washington. Ik schreef hierin een essay over de rol van Marville's foto's op de wereldtentoonstellingen. Daarnaast bevat het essays van Anne de Mondenard, Peter Barberie en Françoise Reynaud. De straatfoto's van Charles Marville (1813-1879) zijn het onderwerp van mijn dissertatie.
Een aantal foto's uit het boek is hier te bekijken, in de New York Review of Books verscheen alvast deze recensie.
Op 25 september opende in de National Gallery in Washington een tentoonstelling over de foto's van Marville (tot 5 januari 2014), daarna ging de tentoonstelling naar het Metropolitan Museum in New York (27 januari tot 4 mei 2014).